depend on us for life
brighter smiles
happier people
The Orthodontic Team You Can Count On.
meet dr. sierk
Dr. Chris Sierk was raised in Bettendorf, Iowa, and is the oldest of three brothers.
Dr. Chris Sierk grew up in Bettendorf, Iowa in a family of dentists.  His father Don has practiced in the Iowa Quad Cities area as an orthodontist since 1976, and continues part time to this day in the practice he founded.  His mother Pat is a retired librarian and elementary school teacher.  Dr. Sierk's younger brother Jon, a pediatric dentist, has practiced in the Denver suburbs of Highlands Ranch and Golden since 2003, and youngest brother Alex in 2007 transitioned into and now owns/operates Don's original orthodontic practice in Bettendorf, Eldridge, and Davenport, Iowa.
Dr. Sierk spent countless summers at his Don's practice learning the basics of the specialty and what it took for Don to run a successful practice.  Orthodontics provided for Don an avenue to have a genuinely positive influence on the lives of his patients, while balancing this with a rewarding family life.  Dr. Sierk was impressed with the warm greetings that patients gave Don in the community, a reminder of the difference Don had made in their lives.  Armed with this background Dr. Sierk was set to make his dream of becoming an orthodontist an reality.
Dr. Sierk graduated from Northwestern Universtity in Evanston, Illinois in 1992, and then moved back to Iowa to attend the prestigious University of Iowa College of Dentistry.  Upon graduation from Iowa in 1996, he moved to Portland and spent the next two years as a faculty member at Oregon Health Sciences University and in private dental practice.  In 1998 Dr. Sierk began his residency program at OHSU and graduated in 2000 with a specialty degree in orthodontics.
Upon graduation Dr. Sierk purchased the 28-year old Tigard practice of Dr. Richard Sutter, and seven years later in 2007 built out his dream office near his home in West Linn.  Not to be outdone in Tigard, in 2013 Dr. Sierk purchased a former bank building and beautifully built out his current office at the corner of 99W and Main Street.  Also in 2013, the South Coast beckoned and Dr. Sierk established a satellite office in Bandon at Bandon Coastal Dental, followed in 2015 by another location at Bee Happy Children's Dentistry in North Bend.
Dr. Sierk has been married to his wife Polly since 1994, herself an elementary school teacher.  They raised two children, Jack and Elsa, in the West Linn community, and both are graduates of La Salle Catholic College Preparatory in Milwaukie.  Jack and Elsa are best friends and both enrolled at the University of Alabama.  The entire family has been thoroughly impressed with Alabama and everything that Jack and Elsa have experienced during their time on campus, and have enjoyed cheering on the Crimson Tide.  Jack will graduate in May of 2019 with BS in Accounting and Elsa entered Alabama in the fall of 2018 with plans to major in Nursing.
The empty nest lifestyle is new for Dr. Sierk and Polly, but they are settling in quite well.  They are enjoying more time to themselves and more traveling, often back to Alabama to spend time with Jack and Elsa.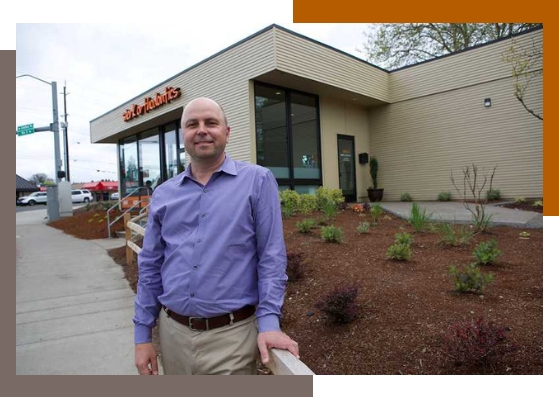 We Take Care of You
We make the process of straightening teeth and beautifying your smile easy. We offer world- class treatment in a friendly, safe, relaxed and private environment. 
our team
Kim

Treatment Coordinator

Kim joined Sierk Orthodontics in 2012, already a veteran of 16 years of orthodontic experience.  Kim shares her home with her husband and three dogs. When asked to describe her passion for orthodontics, Kim responded "Improving the smiles of our patients is very rewarding and truly dear to my heart."

Melanie

Orthodontic Technician

Melanie joined our office in 2014.  She comes to our office with 30 years orthodontic experience and enjoys helping create confidence in children through brightening their smile.   Melanie enjoys spending her free time with her three teenage sons.  She loves the Oregon Coast! 
Calli

Calli joined our office in 2019. She loves working in orthodontics and creating amazing smiles. When she is not working, she is spending time with her family and keeping busy with her kids. She loves traveling!

Jill

Jill has worked in orthodontics previously and enjoys being a part of the process of building beautiful smiles. 

Jill enjoys spending time with her 2 adult daughters and husband. Jill has 4 horses. Three rescue mustangs and one quarter horse.  When not training and riding her horses, Jill enjoys gardening and just being outside with family.
Our West Linn Office
Exceptional Care
Opened in March of 2007, Sierk Orthodontics and team have a stunning location to serve the families of West Linn and Oregon City. Located in the West Linn Central Village, our newest office is just two blocks north of I-205, at the Highway 43/Willamette Drive exit. Our West Linn practice makes it easy to incorporate state-of-the-art facilities and equipment with our continued focus on exceptional patient care.
Our Tigard Office
Serving Tigard for Two Generations
The Tigard practice has been in constant operation in its current location since 1978. Dr. Sierk took the reins in June of 2000, upon retirement of Dr. Richard Sutter.  We moved into our new location on January 9, 2014.  We are located at 12000 SW Main Street on the corner of 99W and Main Street.  Our Tigard practice has served Tigard and the surrounding areas for two generations, and is intimately involved in supporting the local community.